A Steady Strategy in Turbulent Times
After an unusually calm year in 2017, the stock market turned unusually volatile in 2018. How volatile was it? Consider this: In 2017, the S&P 500 had only eight days when the index closed with a rise or fall of 1% or more from the previous day's closing price. In 2018, there were 64 such days, including 14 days with a change of more than 2%, four days with more than 3%, and two days with more than 4%.1
Unfortunately for investors, the overall market trend was downward in 2018, but the most volatile trading days included big gains as well as big losses. So an investor who sold securities after a big drop could have ended up locking in losses and missing the next big upswing. On the other hand, an investor who bought securities after a big upswing might have watched in dismay as values plunged a few days later.
The maxim that it's impossible to time the market is true under all market conditions, but it can be especially damaging — and nerve-racking — to try to anticipate market movements during a period of dramatic ups and downs. One approach that might help steady your blood pressure and build your portfolio over time is dollar-cost averaging.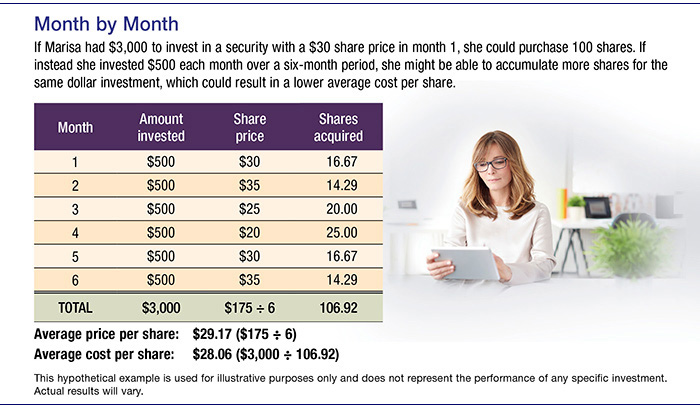 Regular Investments
Dollar-cost averaging involves investing a fixed amount on a regular basis, regardless of share prices and market conditions. Theoretically, when the share price falls, you would purchase more shares for the same fixed investment. This may provide a greater opportunity to benefit when share prices rise and could result in a lower average cost per share over time.
If you are investing in a workplace retirement plan through regular payroll deductions, you are already practicing dollar-cost averaging. If you want to follow this strategy outside of the workplace, you may be able to set up automatic contributions to an IRA or other investment account. Or you could make manual investments on a regular basis, perhaps choosing a specific day of the month.
You might also use a similar approach when shifting funds among investments. For example, let's say you want to shift a certain percentage of your stock investments to more conservative fixed-income investments as you approach retirement. You could execute this in a series of regular transactions over a period of months or years, regardless of market movements.
Dollar-cost averaging does not ensure a profit or prevent a loss, and it involves continuous investments in securities regardless of fluctuating prices. You should consider your financial ability to continue making purchases during periods of low and high price levels. However, dollar-cost averaging can be an effective way to accumulate shares to help meet long-term goals.
Asset allocation is a method used to help manage investment risk; it does not guarantee a profit or protect against investment loss. All investments are subject to market fluctuation, risk, and loss of principal. When sold, they may be worth more or less than their original cost.