Why Americans Are Eating Out Less Than Ever
Sharing meals in your home or out on the town isn't just about eating; it's also an opportunity to spend quality time with friends and family. But whether you are a frugal home cook or a foodie who frequents the trendiest eateries, your dining habits can impact your finances.
U.S. consumers spend about 13% of their incomes on food.1 Everybody needs to eat, of course, but the amount each person spends on groceries and restaurant meals is somewhat discretionary.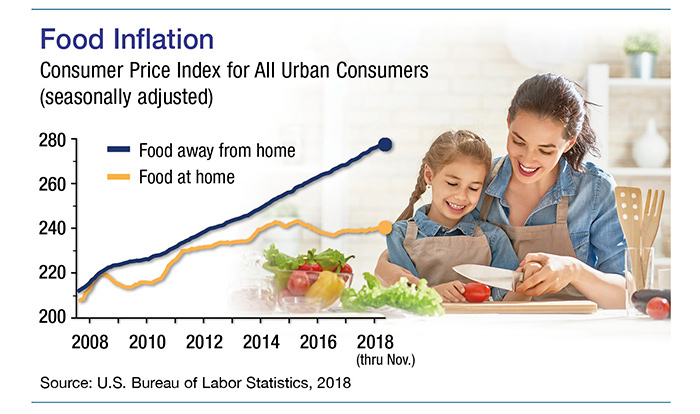 According to a 2018 report by the NPD Group, about 82% of meals and snacks are prepared at home — significantly more than a decade ago. And despite a relatively strong economy, the estimated number of per-person restaurant visits (from fast food to fine dining) dropped to a 28-year low of 185. Per-person restaurant visits reached a peak of 216 in 2000 and have fallen steadily since 2008.2
More Americans are focusing on healthy eating these days, which is easier to control when meals are prepared at home. Here are some other factors that may be influencing these dining trends.
A maturing market. A large cohort of baby boomers is aging into their 60s and 70s, a stage of life when many people start to eat less overall. But they are not the only generation that is eating out less. Millennials hang out in restaurants more than any other age group, yet many are paying back student debt and/or starting families, which cuts into their dining budgets.3–4
Modern conveniences. Grocery delivery services and meal prep kits are shortcuts that help save valuable time and make it easier for busy families to put home-cooked meals on the table. Grocery shoppers can also find an expanding variety of affordable prepared (or semi-prepared) foods at the store, including staples such as roasted chickens, pre-chopped veggies, and fresh-baked breads.
Coping with costs. A restaurant meal has always been a splurge, historically costing about three times more than a home-cooked meal.5 But the price of a restaurant meal has been rising much faster than the price of a home-cooked meal over the last several years, which may be inspiring more people to learn their way around a kitchen.6