Be Aware of Observation Care
No one wants to be admitted to a hospital, but for Medicare beneficiaries the distinction between inpatient and outpatient treatment can be confusing and potentially expensive. The key issue is observation care (also called observation status), during which a patient spends time being evaluated in a hospital — and may be in a hospital room with hospital services — but is not admitted as an inpatient. Hospitals keep patients under outpatient observation to help control costs, but the growing use of observation care has raised concerns for both patients and providers.
To help clarify patient status and Medicare reimbursement, the Centers for Medicare & Medicaid Services implemented a two-midnights policy that directs hospitals to admit patients if they are expected to be under care for at least two midnights. Hospitals must provide detailed oral and written notice to any patient who receives outpatient observation services for more than 24 hours.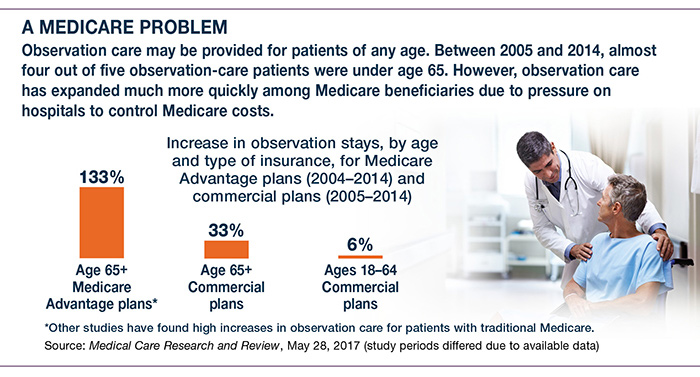 SNF Eligibility
The most significant impact of observation status is typically on patients who require post-hospital care in a skilled nursing facility (SNF). To qualify for up to 20 days of SNF rehabilitation under Medicare, a beneficiary must first spend three consecutive nights in a hospital as an inpatient, and a doctor must recommend SNF treatment. Nights under observation do not count toward the three-day minimum, so a patient who spends one night under observation and two nights as an inpatient would not qualify for SNF care.
A law requiring that observation stays be counted toward the three-day minimum was introduced in the U.S. Congress in March 2017, but as of early 2019 has not received further action. If you need rehabilitation in a skilled nursing facility, your doctor may be able to change your status before you are discharged from the hospital, but doctors must follow Medicare guidelines, and changes are not easily made. Medicare patients cannot appeal observation status, but a pending class-action lawsuit might change that.1
Part A or Part B?
Medicare Part A pays inpatient hospital charges, including prescription drugs, above the annual deductible ($1,364 in 2019), with no coinsurance for the first 60 days. Outpatient services, including observation care and physician services, are covered under Medicare Part B after meeting the annual deductible ($185 in 2019), with 20% coinsurance for each service and no cap on total expenditures. Drugs administered during observation care are not covered under Part B but may be covered under Medicare Part D, which typically requires a separate deductible and copayment. (Medicare Advantage plans may have different costs and coverages.)
Although the deductible is higher for Medicare Part A than for Part B, the coinsurance and copays under Part B can add up. One study found that two-thirds of patients under outpatient observation care paid substantial out-of-pocket costs, and another 10% paid more than they would have if they had been admitted as inpatients.2