Bridging the Gap Between Retirement and Medicare Eligibility
Almost seven out of 10 retirees left the workforce before reaching the Medicare eligibility age of 65. Most current workers expect to retire at 65 or later, but retirees' experiences suggest this may not be realistic.1 If you (and your spouse) retire early, bridging the health insurance coverage gap between retirement and Medicare eligibility could be a challenge.
In the past, employer-sponsored retiree health insurance often provided a solution, especially for those who worked for larger companies. This has changed over the last 30 years. In 2018, only 18% of large employers that offered health-care coverage to active workers also offered retiree coverage, down from 66% in 1988 (see chart).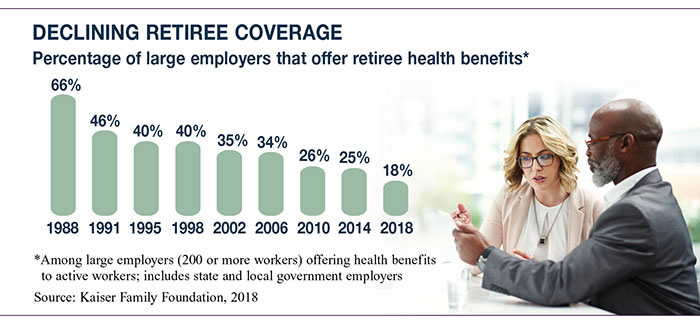 Here are some options to consider if you need coverage after losing employer-based insurance, whether through retirement or for other reasons. An individual plan may be significantly more expensive than your share of employer-based coverage, but it's unwise to go without insurance protection. Although the penalty for not having coverage no longer applies beginning in 2019, high medical expenses could quickly erode your savings and force you to change your retirement lifestyle.
COBRA — The Consolidated Omnibus Budget Reconciliation Act (COBRA) requires employers with 20 or more employees to offer continuation coverage to covered employees, spouses, and dependents when coverage is lost due to certain events, including retirement. COBRA coverage must be identical to the coverage available under your employer plan, but you may pay the full cost plus 2% for administration fees. Coverage typically lasts up to 18 months after you terminate employment.
Health Insurance Marketplace — The Health Insurance Marketplace offers a variety of private plans that may be more cost-effective than COBRA coverage. You can enroll during Open Enrollment or during a Special Enrollment Period that extends for 60 days before and 60 days after you lose employer-based coverage. Depending on your income, you may qualify for a subsidy when purchasing a plan through the Marketplace. If you are not eligible for a subsidy, you might consider an "off-exchange" private plan that is similar to a Marketplace plan but may have different pricing, enhanced benefits, and/or a wider provider network.
Short-term plans — Effective October 2, 2018, short-term plans can offer coverage for up to 364 days and can be renewed for a total duration of up to 36 months. These plans may be much less expensive than other coverage, but they are not appropriate for most older people. Short-term plans are not required to cover pre-existing conditions or provide comprehensive coverage, may have annual and lifetime limits, and can charge higher premiums based on your age, gender, or medical history.
The health insurance landscape is changing, and health plan options may vary by state. Be sure to obtain up-to-date information before considering coverage.