Watch Out for Scams That Target Businesses
According to a 2018 report by the Better Business Bureau, an estimated 6% of small businesses are scammed each year, suffering an average loss of $4,373. Unfortunately, scam activity directed at businesses seems to be growing and tends to involve greater losses than scams directed at consumers.1
Tactics used by scammers to trick owners and employees include pretending to be a trusted individual or entity, creating a sense of urgency to rush payment decisions, slipping through normal business practices undetected, and promising extraordinary deals. In some cases, scammers stoke fears and resort to outright intimidation.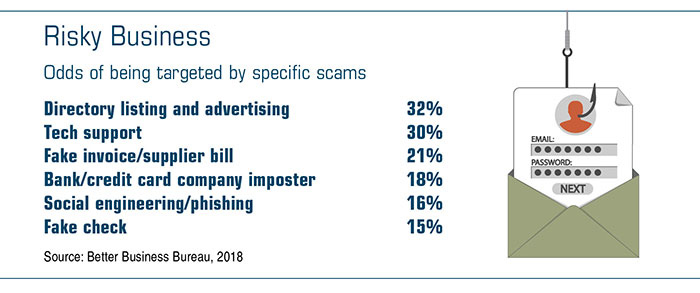 You can help protect your business by learning to spot these six common scams.
Bank/credit card company imposter. Businesses are told they must verify their account information; criminals use shared credit card or banking information to make purchases or steal cash funds from accounts.
Directory listing and advertising. Businesses are sold ads or listings that are essentially worthless because they do not exist or will not be widely distributed.
Fake invoice/supplier bill. Scammers send bills for services or supplies that were never ordered by the company. Unordered merchandise may even be delivered, followed by a demand for payment.
Fake check. Businesses are asked to deposit a check and wire some of the funds to a third party. By the time a bad check is rejected by the bank, the scammer has disappeared with the wired money.
Tech support. Scammers claim to be from a well-known company in order to collect a fee and/or gain access to a computer.
Social engineering/phishing. Employees receive emails, seemingly from a legitimate source (often a senior employee), that request sensitive information such as passwords, bank information, or employee payroll records (W-2s). A criminal can use a W-2 to file a fraudulent tax return and collect a refund or to steal the employee's identity.
Stopping Scams
The Federal Trade Commission offers the following tips for avoiding business scams.2
Secure your company's computer files, passwords, and financial information, and always think before you click on a link in an email.
Train your employees to safeguard company information and remain on the alert for scams.
Make sure invoices are checked closely and that there are clear procedures for approving expenditures.
Do plenty of research before doing business with an unfamiliar company; ask for referrals you can trust.
To stay in the loop on new and trending scams, you can sign up for the FTC's blog at ftc.gov/subscribe.